"
We just take a 200 year old bottle of grape juice and turn it into Two Buck Chuck.
"

— Hardison

To investigate a suspicious death at a winery, the team tries to get at the new owner through his wine collection.
The Client
Edit
Kristen Knox, whose father was a laborer in a wine field until dying of a heart attack while in the field. She was offered a $1 million settlement, on the condition that she sign a non-disclosure agreement, which prompts her to seek the team's help.
Frank Madigan, who has a history of worker fatalities in his fields.
Locations
Edit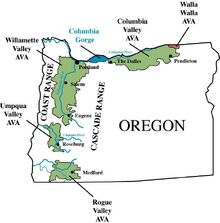 This episode is set in the
Oregon wine country
. Following on the ascendance of the California wine industry, Oregon began to rebuild its wine industry in the late 70s. By the mid-80s, a group of wineries had begun to garner attention for their premium wines, particularly their Pinot Noir, vinified from a finicky grape that does not grow well in California but flourishes in Oregon.
Currently, there are over 300 wineries in Oregon, many of them in the wine growing regions hugging the Willamette and Columbia Rivers. The finest Oregon wines are regarded as on par with the best of those produced in California and France.
The team seeks to make Madigan think his own rare wine collection is worthless, focusing in particular on a 200-plus-year-old bottle purported to have been owned by Thomas Jefferson.
Guest Cast
Edit
Episode Notes
Edit
The episode was filmed at Domaine Serene winery, between Lafayette and Dundee, Yamhill County, Oregon. By road it's about four miles north of Dayton, OR. The winery can be seen in aerial photos at N 45° 16.251' W 123° 04.217'.
Two Buck Chuck is wine made at several facilities owned by Bronco Wine Company in central California, and sold by Trader Joe's markets for $1.99 a bottle under the "Charles Shaw" label, thus the nickname. Many of the labor practices shown are reflective of those documented in Bronco's vineyards, where a pregnant teenaged migrant farm worker died of dehydration in 2008.[1]
When he sees his new computer equipment, Hardison whispers, "My precious...", a reference to the name the character Gollum gives a gold ring in J. R. R. Tolkien's "The Lord of the Rings".
An eagle-eyed viewer who knows viticulture can spot several errors in the vineyards. The episode was filmed mid-summer, roughly three months (depending on grape variety) before harvest. The vines were still fairly freshly pruned, and the actual grapes would have been quite immature at that time; the vines used appeared to be too young to yield a useful crop. Consequently, the grapes being "harvested" were table grapes (probably Concord grapes) which are two to three times the size of wine grapes. Considering that the owner wants quantity over quality, he doesn't care when it would be the best time for wine-harvest. 
Episode Media
Edit
References
Edit
Community content is available under
CC-BY-SA
unless otherwise noted.