Los Angeles International Airport
is the primary airport serving Los Angeles, California, the second-most populated metropolitan area of the United States.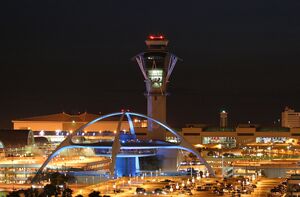 It is often referred to by its IATA airport code
LAX
. LAX is located in southwestern Los Angeles in the neighborhood of Westchester, 16 mi (26 km) from downtown Los Angeles.
LAX handles more non-connecting passengers than any other airport in the world, and is the busiest on the Pacific Rim, serving as an American base for flag carriers including Japan, Korea, China, Singapore, Australia and New Zealand. It also serves as a base for airlines serving Mexico, Central and South America as well as for major European airlines including British Airways, Air France, Lufthansa and Aer Lingus.
LAX opened in 1929 as Mines Field; the original Spanish Revival Hanger #1 remains in use today. The airport was renamed Los Angeles International Airport in 1949. The airport's iconic Theme Building, designed by Periera and Luckman, was constructed in 1961 as part of a major redesign of the airport, bringing it into the jet age. The airport was renovated again in 1983-4, adding a second deck and a new international terminal, named for Los Angeles Mayor Tom Bradley, in anticipation of the 1984 Los Angeles Olympic Games. As part of a third wave of expansion, a new control tower was opened in 1996, accompanied by a series of terminal modernization efforts. Currently, the Bradley International Terminal is undergoing major expansion, scheduled for completion in 2014, allowing an increase in passenger numbers as well accommodating the new Airbus A380 jet.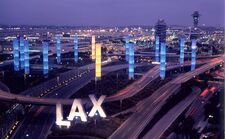 In addition to the Theme Building, LAX is known for its 32 foot lighted letters spelling out L A X and its 15 100-foot tall lighted glass pylons, which greet passengers at the entrance to the airport; a series of smaller pylons ranging from 25 to 60 feet mark the route to the airport along Century Blvd. from its intersection with Sepulveda Blvd. The pylons were designed by Ted Tokio Tanaka, and the lighting designed by lighting artist Paul Tzanetopoulos. The pylons were built as part of the LAX Gateway Enhancement Project prior to the 2000 Democratic Party Convention. Programmed to change colors, they pylons rotate between bright shades of pink, blue, orange, green and purple, representing the multicultural heritage of Los Angeles. The pylons can also be programmed to display seasonal lighting, such as red, white and blue for July 4. Harmonizing lighting was also installed at the Theme Building.
LAX in Leverage
Edit
The characters from Leverage were seen departing from LAX on the fictional Vista Atlantic Airlines in the first season episode The Mile High Job. However, the actual airport was not used; instead, the Los Angeles Convention Center doubled for LAX.
External Links
Edit