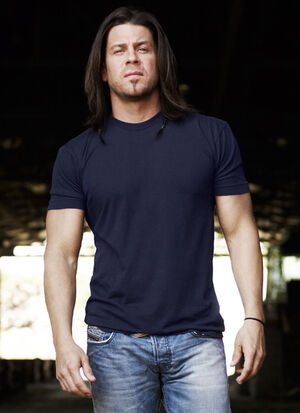 Christian Kane (born June 27, 1974 in Dallas, Texas) is an American actor and singer/songwriter of Native American descent. He currently stars as Eliot Spencer on the TNT series Leverage. He is best known for his roles in the television shows Angel and Into the West, and the movies Just Married and Secondhand Lions.
Kane is also recognized as the morally ambiguous lawyer Lindsey MacDonald on the show Angel, and has also appeared in episodes of Fame L.A., Rescue 77, and Close to Home. He has also appeared in movies, such as Life or Something Like It, Her Minor Thing, Keep Your Distance (with actor Rick Overton), and Not Since You. He'll also be appearing in the future movie Good Day for It. Christian is also an accomplished Country Musician whose self-titled EP CD and CD titled "The House Rules" was recently released.
Christian is currently starring in The Librarians, a direct spin-off of The Librarian film series produced by Dean Devlin and Electric Entertainment. The series was developed for television by Leverage creator John Rogers.
Kane is a physical actor and is often seen doing his own fight scenes as Eliot Spencer.
The music video for "House Rules" was directed by Timothy Hutton.
Song Writing
Edit
Kane wrote and performed the song "More Than I Deserve" which was featured as the love theme in the episode "The Two-Horse Job".
Kane (along with Blair Daly) wrote the song "Thinking of You", which the Eliot character performed in the episode "The Studio Job". Which appears on both his CD "The House Rules", his self-titled EP and released as a single.
External links
Edit