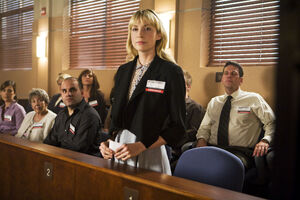 "
I guess Alice isn't so bad. Her shoes are more comfortable than mine.
"
Alice White is an alias, created by Alec Hardison and used by Parker. It is introduced in The Juror #6 Job.
Biography
Edit
Alice White is a vegetarian bookkeeper, with a sister who resides in Phoenix, Arizona. She is a fan of romantic movies as well as classic novels. Alice also maintains a Facebook page. According to her profile, she is 30 years old, 5'7", 115 lbs, and was born on 4/1/78.
Appearances
Edit
In The Juror #6 Job (Season 1), Alice is called for jury duty and is researched by the counsel for the defendant. She later is elected jury foreperson. Over the course of the trial, she becomes friends with Peggy Milbank, a nutritionist, who helps her see the oddities in the various members of the jury.
In "The Girls' Night Out Job" (Season 4), Alice and Peggy reunite when Peggy moves to Boston. Peggy invites Alice for a drink, and to scrutinize a date she's met online. Parker, realizing the date is not all he appears to be, crashes the event Peggy is catering, leading her to help uncover an international conspiracy.
In "The Low Low Price Job" (Season 5), Parker uses the Alice White alias to get a job as a checker at Value!More.